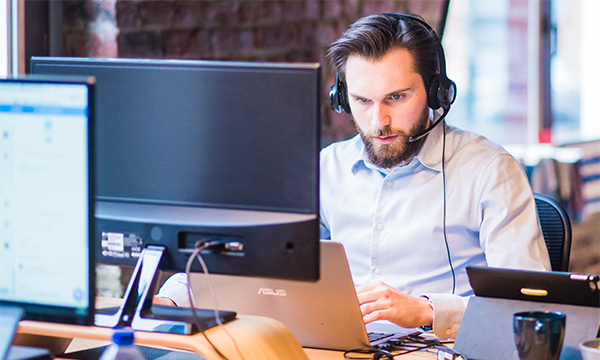 In-house vs. outsourced SaaS support for expense management
Using software as a service (SaaS) applications within your business operations?
The 'service' part in SaaS may be more crucial to running a smooth and efficient business than you realize. 
For SaaS, support teams provide an integral service to their users. An effective support team possesses critical skills and knowledge to help ensure clients (including users) are properly guided to make the most of ever-evolving software applications. From trouble logging into the system to system use best practices, a quality support team will help you make the most of your software purchase.
There are two versions of support that may come with your SaaS product: in-house and outsourced. An in-house support team works and operates within the product company. Outsourced support generally is provided by offshore call centers, which are contracted out and not part of the company.
Does it matter where your SaaS support is coming from?
Is it better to choose a SaaS provider with an in-house support team or off-shore, outsourced support? Let's take a look: 
Quality of service
Typically, SaaS companies focus on one product or a small set of products. Whereas, off-shore support houses are trained by the original SaaS company to provide support for a wide range of services and products, including any software updates.
By the nature of this third-party set-up, an out-of-house team is less connected to both the software and, you, the client. And because an outsourced support team does not work onsite with the company, customer service can become disorganized and unclear. This lack of direct control over a customer's experience makes it extremely difficult for the company to monitor if policies are still being upheld - resulting in shaky customer service and room for additional problems.
Therefore, when a third-party customer service entity is involved, the quality of service is compromised. The offshore support team may lack important company knowledge, including values, policies, and culture. This opens a window for errors and support slip-ups.
Meanwhile, in-house teams are more knowledgeable in both the software and your company policies and procedures. This leads to a better overall experience for clients and users.
Plus, as is in the case of Webexpenses, the in-house development team that creates the software is close. And thus, there is a great deal of internal communication that occurs when a new product or feature is released. This ensures that all in-house team members understand the products in great detail and are equipped to handle customer queries. Outsourced teams are less involved in feature updates and releases, which may lead to a disconnect between software and support.
User experience
In-house support provides an additional benefit: software updates. For companies, like Webexpenses, who employ both support and development in-house, this can mean a much better user experience in the long run.
Why?
An outsourced support team is there to close ticks and less invested in the feedback from users. Meanwhile, a good in-house team will collect and use this information. Feedback from support will be passed on to a Product Manager - and potentially to the development team for software updates that improve user experience.
For example, if support is getting calls that users are having trouble finding a 'Submit' button, the support team will discuss it. The support team leader may then pass this information onto the Product Manager, who can bring the issue to the development team.
Then the development team can fix the improvement, which was identified because of collated feedback from the support team. Reoccurring, this kind of refinement leads to the best user experienced and a consistently improved platform for users.
Data security
An important priority for most companies is the security and integrity of sensitive customer and company information. Data is the primary asset of most major companies, so when an outsourced support company comes into play, there is an increase in data breach risks.
In fact, 63% of data breaches stem from outsourced support providers, according to a study conducted by Trustwave. It's important to keep data security strong because it is a business due diligence to protect their customers as well as their employees.
In-house support teams offer the most secure forms of data protection because everything is housed within their own gated servers, making the data inaccessible to third-parties. Because the data lies within the company, there are strict protocols in place for employees to be able to control internally across their support team. Not only does this prevent fraud, but it offers a level of protection that offshore support teams cannot provide - or that you may be unable to guarantee.
In addition, overseas support teams may not be required to go through the same background checks and training as the SaaS company. This can present an additional, unknown threat to data security.
There are major consequences when company data has been breached, including, loss of trust, damaged reputation, financial losses, and impact on future endeavors.  Ultimately, it's best to leave critical data information to a trusted source and accessible to as few people as possible.
Quality assurance
When the support team lives within the company, they represent their company brand. This personalization ensures that:
Better quality service is sustained
The familiarity of clients is retained
User experience is improved
Data security remains optimal
In addition, there is greater monitoring from management over the support team to ensure quality performance. So what does that mean for your users?
Top-notch service. With in-house support means, you are a big fish in a little pond (versus one of many to a third-party support provider) so to speak. User reviews reflect directly on the SaaS company's team and its product.
On the contrary, a company with an off-shore support team can experience a disconnect between the company brand and the support team. Because the support team is a part of a different entity, they may lack vital knowledge and information of the company needed to properly assist with problems and troubleshooting.
So, why is in-house support better?
Ultimately, this quality assurance means easier onboarding and overall positive experience. The potential for a long-lasting relationship: No need to switch software and retrain your team. Just quality SaaS experience, top-notch service, and happy users.